NAME ;; Melancholy
NICKNAMES ;; Mell, Melon, Coal
HOURGLASS ;; 5 years
GENDER ;; Male
VOICE ;; The depths of taunt beseech the mischievous edges of Melancholy's daring voice. One might say that his words are toned to sound like a lawn mower; deep in some places and high in others. When excited, Melancholy tends to speak with a higher pitch, but not too high. When frustrated, his speaking turns deep and tormenting.
FRAGRANCE ;; Normally, the powerful musk of rain masks Melancholy. It is a deep, earthen smell that brings out the memory of forests to one's mind. Many remember Melancholy by his forested scent versus his voice or appearance.
CANINE ;; Italian wolf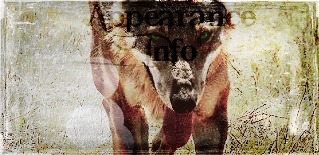 WEIGHT ;; Ninety pounds
HEIGHT ;;   Four feet
BUILD ;;   Melancholy has a very small, fragile-looking body. Years of dehydration and hunger have sliced down of his bone size and strength. However, the muscles beneath his coat are especially strong and well trained. Melancholy is able to jump high and strike deep. Alas, even though he has the agility of an eagle, he is not able to take many hits before utter defeat. His skin is thin and his muscles, sadly, are not enough to make up for his weak bones.
COAT COLOR ;;  His coat contains different hues of copper and white.
EYE COLOR ;;  His eyes are a piercing lime which slightly twirls in with the color of neon green on the edges of his iris and at the corners of his pupil. The light lime color slightly blends in with a darker tint in some spots of his eyes. These colors of his eyes will leave you breathless and you'll be sure that they'll be stuck in your head for a long time.
MARKINGS / SCARS ;;  Melancholy has a couple of scars from ticks and fleas, and a few from accidents. Other than that, he has no visible markings. All of his scars are hidden by his coat, so nothing tells him apart from the crowd.
PERSONALITY ;; Through his grim past and brutal nature, there is one thing that Melancholy finds divine. Nature. He spends hours on some days simply staring at trees and plants, admiring their everlasting beauty. He talks to them, too, sometimes, because he's never had a true friend to tell his secrets too. The plants listen to him. But alas, he's never hated any one thing as much as he hates his own species. Because Melancholy is so socially awkward, he sometimes picks fights with those he knows he can't beat just to make a point or force guilt.
When another of anything touches or breaks a thing of nature, Melancholy is touched deeply. He begins to grow furious. Sometimes the harm of a plant can lead to the end of a friendship (if a wolf is able to create one, seeing that he absolutely refuses to talk with others). However, if one is careful and also admires the trees and plants, Melancholy will treat them like brethren.
In combat, Melancholy uses manipulation and confusion. He is not able to fight as effectively and powerfully as the others, and therefore uses the brain for advanced dueling. Sometimes he'll hide and call his adversary's name. Other times, he'll simply taunt his opponent until they are blind with fury. Melancholy also has a habit of using false pity so that his opponent is too sorry for him to attack.
Another thing about Melancholy is that at first, he is very shy and mysterious, and will not open up very quickly. In fact, he may sometimes attack a character that he doesn't know... metaphorically. His voice will not always remain with that that firm, careful tone in it when meeting strangers, as he has trouble confronting others. He is able to lace his words with venom, though, whenever necessary, thus most become irritated or intimidated when trying to figure this mysterious wolf out. Melancholy can also be a bit sarcastic and aloof upon meeting him for the first time.
His temper is basically radioactive for the most part, as one little insult toward him or his allies can set him off like a hurricane. He often over-analyzes situations and has a tendency to overreact, especially in situations where his own safety is potentially at risk. In situations such as these, he is brooding and stubborn.