___________________________________

|
| Rivet, Male, Scout, 2 yrs 3 months |
|
___________________________________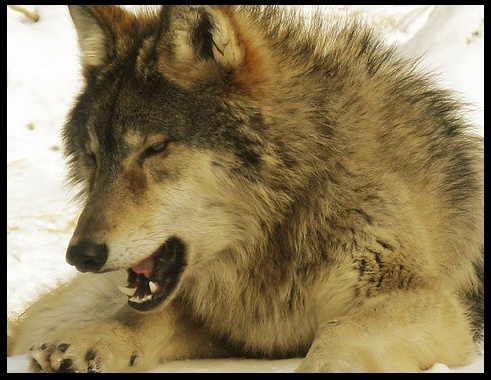 ___________________________________

|
Physical Characteristics
|
___________________________________


Rivet's bodily frame appears to be that of just an "average" wolf at a first glance, and when it comes to appearance alone nothing seems out of the ordinary or all that special about this haughty little character.

Mostly this is because his legs are of a normal length and his body of a normal, but thick size which is partially due to his multiple toned coat. It is only until you see this young male in direct action will you actually be able to see exactly what sort of benefits he reaps from this seemingly "average" frame of his.

When it comes to the other bodily characteristics that define this young male, one might notice that although he may be constructed of just an "average" body structure…every other feature of his is nothing close to being just average. For example his coat is made up of a ton of different hues, the upper half consisting mostly of shades of Greys, Browns, and whites…with streaks of black. While the lower half such as his front and back legs are mostly a mix between two or so shades of a light tan with a hint of white starting from the base of his paws. It remains at a long length for most of the year, but during the hotter months he does tend to shed a tad bit more…in an attempt to regulate his bodily temperature.

Of course in Rivet's mind it isn't about how the coat is made up or how many colors you have in it, but instead it is all about how well one can sport it…and he'd like to think that he sports his coat rather well!

Though in all honesty, his marvelous looking fur is not the first thing people generally compliment him on…instead it is his eyes. They are made up of a beautifully vibrant gold and are lined with spouts of a rich brown like color that surrounds the pupils. So when grouped along together with his outstanding coat this male is intriguingly handsome (especially in his own mind), and so his seemingly "average" body frame no longer seems to be a concern.
___________________________________

___________________________________

:Rebellious, and a pusher of limitations:
 Rivet is a wolf who opposes almost all authority figures simply because he believes he can and because no one has ever told him otherwise and that he couldn't. If he finds that what you say isn't good enough or is too complicated, he will without a doubt challenge your word on the matter. Most of the time however, he is not seeking to fight you, but instead he is merely testing you to see just how you will react…and how far he can push you before you snap.
:Flirtatious, but uncaring:
Many who know him say that this young male is unable to actually hold a serious relationship with another of his own kind for very long, partly this could be said because he holds no real devotion for anything or anyone else besides himself. He'll find one person to flirt with and not long after that you could see him flirting around with another wolf…simply because he can. And partially because he just comes off as being uncaring and rather indifferent to most he meets, especially when he feels that you will be unable to provide any entertainment or if you are just a boring person. Most importantly though his relationships never never last because he strongly believes that no one besides himself can or should be trusted or relied on, whether that be in a time of need or simply throughout a regular day…until this can be proven otherwise…he will remain the same.  
:Unchanging:
Unwilling to change or adapt his behavior to fit anyone else's ideals or ethics, Rivet believes that when it comes to the way he acts and thinks…he'll never change his views. Those who wish for him to take on a change will need to relentlessly push him and only when he finds that you have become an absolute annoyance will he budge and reconsider the matter. Never will he come out and say that he was wrong and that you were right, at least…not seriously…anyways.
:Never on time:
Rivet is almost never on time when it comes to pack events, and even when he has arrived he always bares some explanation as to why he showed up late. Most of the time, though these explanations are not very impressive and generally tend to follow along the lines of how he simply felt like taking his sweet time, or how he just didn't think his presence was needed right away at the moment.
+ Intelligent when he wants, especially in cases that if used would make him look good in the eyes of others.
+ Type that prefers reasonable and somewhat practical decisions over irrational ones, when it is allowed and no one else is watching. This is mostly because he hates wasting time on serious matters and so he'd rather see the problem dealt with as quickly and as effortlessly as possible.
___________________________________

___________________________________

Rivet's childhood was one that lacked any sense of real direction because for most of his puphood his parents continued to think they were entirely care-free even after they had been gifted with a litter of pups. Thus, in turn Rivet lacked the needed discipline most parents would have provided to their youngsters in order to set the fundamentals of how the world actually worked and to eliminate the idea that no matter what you thought...you were no better than the next person you met.
 
As much as many may like to think that that was the root of the problem, it sadly was not the only one…and in fact it was just the start of a long and stressful beginning for Rivet.

The problem truly progressed after one of his four litter mates died in a freak, but preventable death. The death was mostly caused by the negligence of his two parents, and both of them knew that if they had been just a bit more watchful or perhaps just acted like the parents they had become, instead of like the two wolves that could once refuse to give up their lavishing life filled with endless amounts of freedom and no need to care for anyone else besides themselves. After this dreadful event, Rivet's parents decided it was best to start enforcing particular rules, but they could have never imagined that by this time it was all too very late for their already rebellious child, Rivet.  

If anything this new change only made Rivet act out worse, it was unacceptable and he vowed that he would not conform to their rules…only after they had decided to make a change because they lost one child. It was not that he thought the changes were silly, but he believed they had made them much too late. The changes should not have been after the death of his sibling, but instead they should have been made and acted on from the very start.

So although his parents did their best to stick to the new rules and enforce them, Rivet rebelled against every word the pair spoke until it eventually made him the outcast of the litter. His other siblings listened with no problem, and once the idea to behave was placed into their heads…they went against their brother and eventually they ceased all interactions with him that they could possibly get out of and whatnot.

If he was being completely honest, this act did hurt the young male quite a bit…but he stuck by his views and continued to act out until he had reached the appropriate age to disperse. Unlike his siblings who left their parents together in a group, Rivet was forced to travel the lands and fend for himself all on his own. The solitude at first was refreshing; he listened to no one but himself the difference in this though was that this time it wasn't something he did by choice or as a result of his rebellious nature.

Even for this wolf though things grew a tad bit lonely…though he'd never admit that that was the reason for his seeking a pack. Instead he states that it is just common knowledge for a wolf to want to seek out a pack because it increases the chances of one's survival…nothing more and nothing less.
___________________________________

___________________________________

+ Likes: to be around others, but he'll never admit that it is because he doesn't want to feel left out or alone.

+ Likes: colder temperatures, and is a fan of chilly nights.

+ Likes: the color orange and sunsets

+ Dislikes: people who try to change his views simply to have them changed or those who are unable to justify why he should change.

+ Dislikes: fish, it taste overly fishy and smells funny.

+ Dislikes: when others write him off as being just "average"

+ Secretly fears: that he will be left alone in the world and once again made into an outcast.

+ Secretly wants: to become a better person, but he doesn't want to rush into the change and do it merely because others think he should. If he changes he wants it to mean something and he wants the change to have a defined purpose.
___________________________________

___________________________________